Communication with your buyers builds their confidence in you as a seller, eliminates confusion, and creates a relationship beyond the transaction. Auction Wizard® 2000's Email system facilitates good communication with several advanced features to keep you in control of your correspondence, including the ability to automatically associate your Email messages to their corresponding Invoices.
Auction Wizard 2000 can be configured to work with an unlimited number of Email accounts. Folders for all the different types of mail you send and receive can be created. If you create Email Filters, Auction Wizard 2000 will automatically sort your incoming and outgoing messages. It's your own organized personal post office!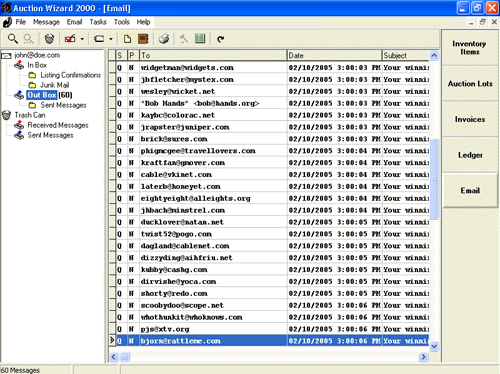 Edit your Email in Auction Wizard 2000 just like any other full-powered Email system - of course, the program supports attachments, too! When you're finished typing, run the built-in spell check program to catch any typos. The Address Book lets you store frequently used buyer addresses for continued use.
The Database Record Panel gives you full access to your Invoice information (including the buyer record) from within Email Reader and Email Editor windows. You can even record a payment from a payment service while reading an Email message. You still have access to Auction Lot information, just in case you need to respond to questions from a potential bidder.
The Email Reader windows allow you to quickly and easily store the buyer's shipping address into the associated Invoice record. Full support for URLs in Email messages is included - click a URL (any web page or even a listing page) to open it in your web browser.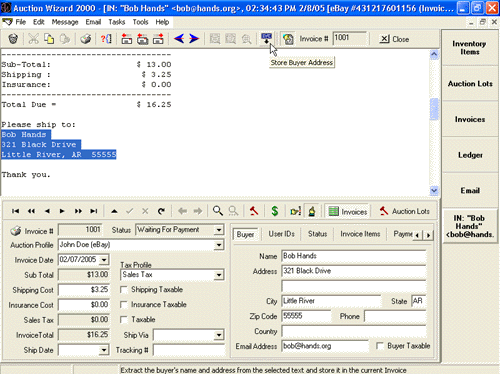 Email Templates in Auction Wizard 2000 are used to create Email messages from your Invoice data. In addition to normal text they contain special "field tags" that are automatically replaced by Invoice data, reducing keystrokes and increasing accuracy. Just like the HTML templates, Auction Wizard 2000 has a powerful editor for modifying the included sample templates or creating your own. You can use Email Templates to generate and send Email messages to your buyers at every step of the auction management process from notifying winning bidders through letting buyers know you have left feedback for them. You can even reply to an Email message using a template.