An Auction Lot represents a single auction listing. It is comprised of all the fields needed to list an item on an auction site and track it until it closes. Support for Item Specifics on eBay/eBay Stores is included in the program. Auction Lots can be created from Inventory Items, including those items for which the quantity in stock is tracked, or they can be entered directly on the Auction Lots window.
There's no need to know HTML to prepare stylish listings thanks to Auction Wizard® 2000's powerful Listing Templates. Listing Templates contain the layout, color scheme and other non-changing text (such as terms) for your listings. Special database field tags can be used to insert data from your Auction Lots (such as shipping and insurance costs) into your listings. Over 20 sample Listing Templates are included. You can modify them to suit your needs or create your own. A full-featured template editor is included. Of course HTML aficionados can augment their listings with HTML code or create their listings entirely in HTML code.
Preparing an Auction Lot for listing is simple. Enter the Item Description using standard word processing techniques, and Auction Wizard 2000 converts it to HTML automatically (a spelling checker is included to catch those typos before they end up in your listings). You can add any number of images to each Auction Lot and they will automatically appear in your listings. Selecting a listing category is easy -- enter a category number or select the category using the fully searchable category tree.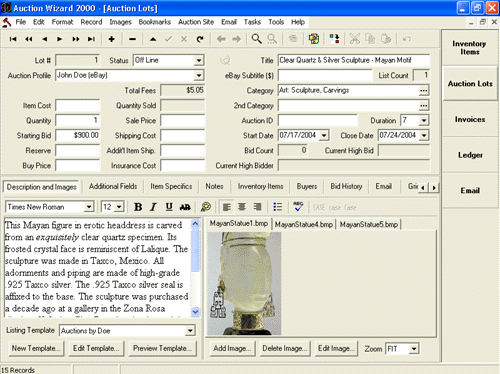 Auction Wizard 2000 contains a powerful image editor inside the program. Rather than purchase an external editor for your scanned images or digital photographs, Auction Wizard 2000 has the most popular and useful image manipulation controls built in.
Rotate by preset 90 degree increments or any angle, crop, resize, shear, sharpen, soften, correct Gamma, or adjust the hue, brightness, and contrast - the tools you need to make your images look their best are inside Auction Wizard 2000! Images are stored inside the Auction Wizard 2000 database, so there's no need to search your hard drive for the image you need.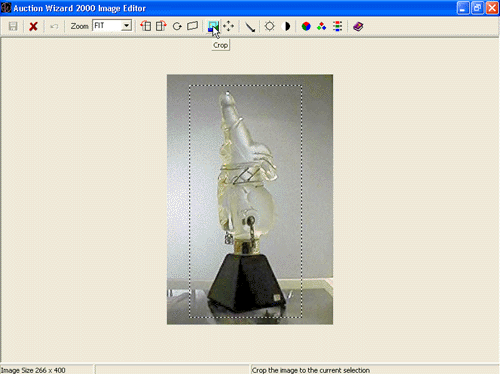 Auction Wizard 2000 tracks many other details for you, such as consignments and auction site fees. There are 6 user-defined fields that can be used any way you want.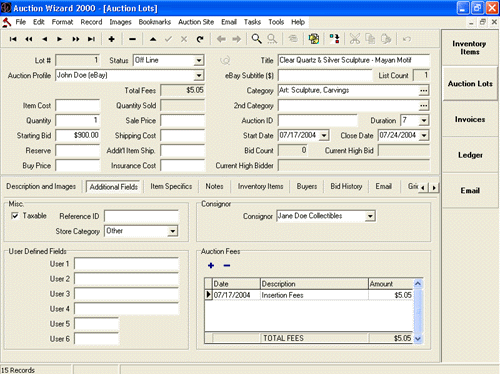 Item Specifics are supported for eBay and eBay Stores.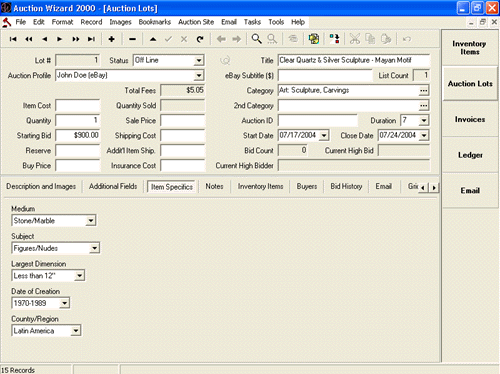 When an Auction Lot sells you have access to the Buyer and Invoice information from the Auction Lots window. In the case of dutch auctions all of the winning bidders are displayed.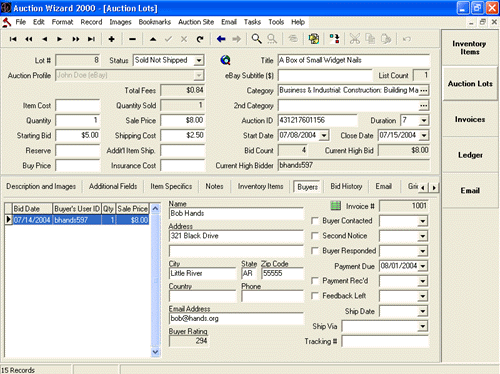 The bid history is always available and can be updated at any time.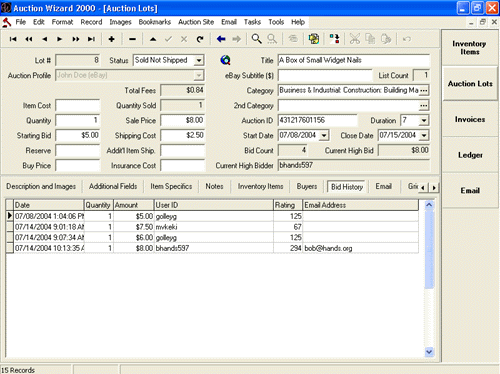 Advanced search capabilities allow you to find items by all other fields as well, including Notes. Bookmarks let you jump quickly to any bookmarked Auction Lot. Auction Lots can also be analyzed in the sortable Grid View.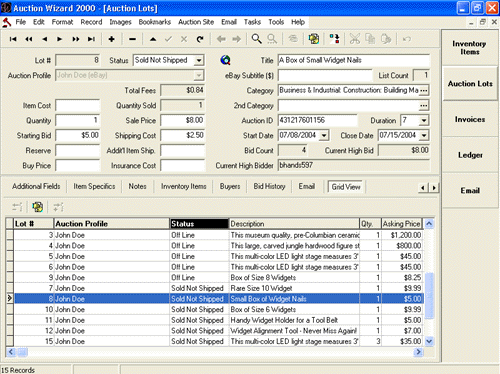 You can easily select which Auction Lots you want to see, and which ones you don't. This filtering capability combined with the Grid View makes queuing Auctions Lots for listing a snap.